Upcoming Courses

**NEW**

KRAV MAGA BEGINNERS COURSE NOVEMBER 1ST
Krav Maga Regina will be offering a short 4 week / twice a week adult beginners course starting Wednesday, November 1st at 8:15pm covering basic Krav Maga self protection skills and techniques in a dynamic and friendly learning environment. GET FIT, RELIEVE STRESS & HAVE FUN WHILE LEARNING HOW TO PROTECT YOURSELF! Classes will run Mondays and Wednesdays from 8:15pm – 9:15pm for 4 weeks. Open to all fitness levels, no experience necessary. 
Please email

kravmaga@accesscomm.ca

for more info or to register.
**NEW**

Km FITNESS BOOTCAMP October 3rd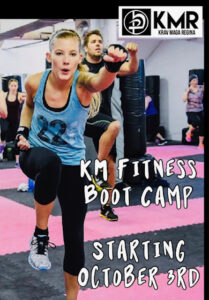 The Km Fitness Bootcamp classes  cover a wide range of techniques and drills to get you into better shape and maximize your work out.  This is not your average bootcamp!  With a fun and fast paced mix of cardiovascular and strength training combined with intense and explosive Krav Maga combatives you will get the ultimate work out! Classes are open to all fitness levels. Classes will run on Tuesdays and Thursdays from 6:00pm – 6:55pm in 4 week sessions.
**NEW SESSION STARTS TUESDAY, OCTOBER 3rd @ 6:00PM**
Please email kravmaga@accesscomm.ca for more info or to register.