Meet The Instructor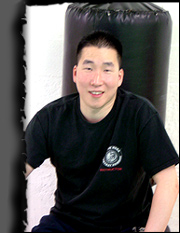 Richard Kim
Chief Krav Maga Instructor
Krav Maga Regina
Expert Level Krav Maga Instructor Certified by Krav Maga Association of America (KMAA)
1st Canadian to receive teaching license from Krav Maga Worldwide (2000)
4th Degree Black Belt  World Tae Kwon Do Federation
30 years of martial arts experience
National Coaching Certification Program Certified
Richard began martial arts training at the age of 7 and achieved his Black Belt in Tae Kwon Do at the age of twelve.  He has been an active martial arts athlete, and instructor  for over  15 years including serving as coach and  trainer for provincial teams and national champion athletes.
Richard was introduced to Krav Maga during a martial art conference workshop.  He immediately knew that this system would become a big part of his life's work.  The techniques, theory, rationale, and teaching methods were cutting edge.  But the determining factor in pursuing  Krav Maga  were the instructors themselves.  "I had never met a more integrative or more professional group of instructors before. These people were absolutely committed to giving people the means to protect themselves and  truthful and passionate in their transfer of knowledge.  This was the system I wanted to learn and teach the rest of my life."
Richard received his teaching license in 2000 from the Krav Maga National Training Center based in Los Angeles, California.  He became the first Canadian licensee for Krav Maga Worldwide and is currently the only licensed Krav Maga instructor in Saskatchewan.  He has been running Krav Maga Regina for over  14 years.
Richard has travelled the world training with some of the top martial art instructors of our day and continues to pursue on-going education to provide the latest cutting edge techniques and methods for his students.
Richard can be seen every night on the mat passionately working with Krav Maga Regina members.  "My objectives for this program are to provide a safe, empowering environment for all students, teach truthful and practical techniques and skills in a highly professional manner, and to make sure everyone leaves the class with their clothes soaked in sweat and a smile on their face."